BEAUTY TREATMENTS
Our beauty sessions are aim not only for beauty itself, but, to help the process of regeneration of the human body, creating natural rejuvenation, health, beauty and an interior and exterior harmony.
The goal of Doctor Hausckha's facial treatment is to restore the information that the cellular memory of skin needs in order to create its own nutrients for its health, balance and beauty.
The benefits of the treatment are reached through paused rhythmic movements and the 100% natural herbal preparation. This generates a deep relaxing effect for your physic, emotional and mental levels.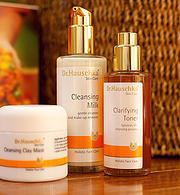 Complete Harmonious Skin Care
120min / $95.00
This is a deep cleansing treatment which includes a clay mask with medicinal herbs, lymph stimulation, a homeopathic treatment with rhythmic skin conditioning, rejuvenating mask, sage foot bath and relaxing foot, arm and head massage.

Harmonious Skin Care
90min / $75.00
Excludes the clay mask

Clarifying Treatment
60min / $55.00

Rejuvenating Treatment
60min / $55.00
All prices in american dollar.